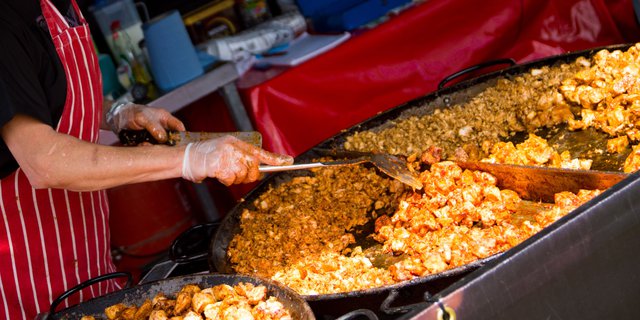 Food
As always we will be bringing you the best selection of local independent street food out there with the tastiest foods from all corners of the world, starting on our own front doorstep. As well as some exciting new cuisine, expect to see the best of our long term favourite friendly traders and charity stalls back too. Everyone will be spoilt for choice including vegetarian, vegan, gluten free, dairy free and of course child portions.
And for all our lovely campers we will again have Friends of North Nibley School firing up the BBQ to keep everyone happily fed and watered for the whole weekend. Breakfasts will be available on both mornings from 7am.
Check back here soon to see which traders we have selected for you to enjoy.
All our traders will be using compostable packaging this year. You can help by using the correct bin to dispose of your packaging after you have enjoyed your meal.
And don't forget to get all your group to bring their reusable water bottle. There are water points around the site to easily refill them. Every saved piece of single use plastic counts.
Who will keep us fed and happy in 2022?
Gourmet Mac and Cheese or Nachos with a selection of tempting toppings.
Vegetarian, child portions and GF options
Sloppy joes/ Dirty Fries/ Nachos with special toppings including bolognese/vegan chilli and specials.
Vegetarian, vegan, DF, GF and child portions
Bringing something special to The Orchard, the ThirstyWagon is a real head turner - a unique 1920's wagon converted into a mobile cocktail and prosecco bar.
Freshly made sweet and savoury Crepes, Donuts & Segafredo Coffee. Look out for their space inspired menu.
@StrEATery.co Instagram
Vegetarian, vegan, DF, GF and child portions
Back again with their handmade, Fresh, Wood-Fired Pizzas
Niangs Thai Snacks
Back again by popular demand with their amazing Thai curry and noodle street food.
Vegetarian, vegan, DF and GF
We were delighted to have the Spanish Buffet back after a year off with their Traditional spanish meat paella, veggie paella, and tapas.
Vegetarian, vegan, DF, GF and child portions
Artisan sorbets and ice creams made from healthy sheep's milk. The ice cream is light, smooth and low fat, but is naturally creamy tasting.
Vegetarian, vegan, DF, GF and child portions
Buttermilk chicken fried in their own secret blend of spices and herbs. Served from an iconic 1965 American Truck.
Vegetarian, vegan, DF, GF and child portions
Charity stalls:
FONNS Tea and Cake Tent offered a welcome cuppa and the best home baked cakes you could wish for.

The Pimms Tent run by the North Nibley Recreational Field undoubtedly made the best Pimms this side of Mars!

FONNS provided campers with their freshly cooked BBQ breakfast rolls and hot drinks. Friday night BBQ and Hog Roast.

The Wotton Round Table BBQ was the first ever food trader at Nibley. For the first time this year they will be adding a Hog Roast to their menu.
More to be announced soon ...
Sponsors