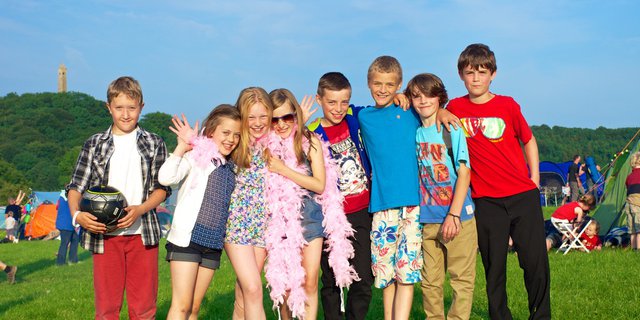 What's on for Kids
Nibley is a great festival for kids of all ages. There is loads to do and most of it is free. Infants under 4 years are admitted free and anyone under the age of 18 must be accompanied by an adult over 21.
Here's a flavour of what we have in store for 2019:


The Flying Seagull Project
Performing on their beautiful gypsy wagon stage the Flying Seagulls are a one stop shop for madness, energy and fun. Expect circus shows and workshops, magic, kids comedy, fun games and general silliness.
Junkfish
The big Junkfish craft tent returns with an intergalactic mix of space age crafts and fun, a chance for the kids to get creative with painting, sticking, costume making and junk modelling. Plus extra activities in our family chill out area and the ever popular Junk Ball Run.
Ape Project
Bristol based Ape Project return with their range of wacky bikes, scooters and trikes in all shapes and sizes and their wonderful pedal powered bike carousel made from recycled children's bikes and bike powered spin painting.
Silly science
Silly Science bring their wacky space themed show and workshop to Nibley on Saturday morning - expect rockets, explosions and lots of slime!

World Jungle
World Jungle will be setting up camp in the Orchard with hammocks, slacklines, bush craft and a special space themed play area.
Laser Tag
Stormtroopers and Jedi knights can battle it out in Hanger 51's hi-tech inflatable Laser Tag.
The Woolly Circus
CLaN specialises in traditional crafts and ecology. At the Woolly Circus you can try your hand at spinning, make a felted space themed bookmark and help decorate the willow sheep. And don't forget to look out for the tiny Nomadic Museum of Natural History which will be touring the site!
Sealed Knot
Charles Gerard's Regiment of Foote invite you to see and experience life in the English Civil War period. Crafts, campfire cooking, games, dress, military matters and more. Whether a Royalist (hooray) or a Parliamentarian (boo) see what the Sealed Knot can offer.
Salamander Glass blowing
Watch expert Salamander glassblowers in action and for a charge you can book a slot to have a go at making your very own hand blown bauble or tumbler in your choice of colour and style. Spaces are limited. Bauble blowing costs £10 and slots are approximately 10mins and for a Tumbler (which is a "hands on" experience) it will cost £30 and you'll need 60mins. Any queries or to book a slot drop them an email salamanderglassblowing@gmail.com or visit their Facebook page or Instagram @salamanderhotglass".
Story telling tent
Mark Fraser joins us to spin yarns and fantastic tales of adventure throughout the weekend.
Other attractions include:
Ferris Wheel
Inflatables
Flash Mob
Yoga
Wiltshire Astronomers
... and a host of Cosmic Walkabout Entertainers!
Sponsors