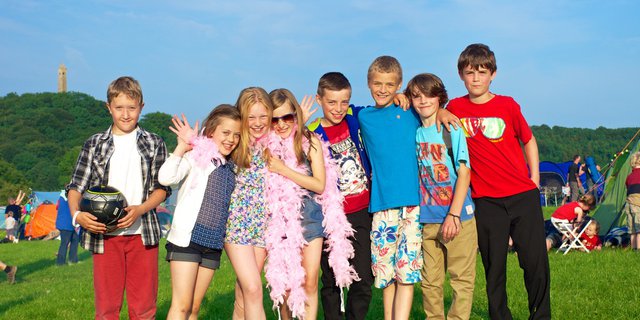 What's On for All the Family
We really focus on bringing you the best activities for kids of all ages. There is always loads on across the weekend and with the exception of the Ferris Wheel its all free.
Remember infants under the age of 4 are admitted free. Anyone under 18 needs to be accompanied by an adult over 21.
This is what we brought you in 2023 :
The Flying Seagull Project
It wouldn't be Nibley without our friends from The Flying Seagull Project bringing their madness, chaos and fun. Who doesn't like circus shows, workshops, magic, fun, games and all round silliness. We are sure some people spent the whole of the Festival with them!
http://www.theflyingseagullproject.com
Savage Skills BMX Display Team

Who saw their breathtaking skills? We simply had to invite them back to entertain us all again. This year we had a mix of BMX and Mountain Bike riders astonishing us with their skills and tricks.
They also brought their Action Wheels cycle track for kids of all ages to show their stuff
http://www.savageskills.co.uk/index.html
Warehouse Climbing Centre
Again, by popular demand, the climbing wall was back. We stood awe as people scampered up the wall.
https://www.the-warehouse.co.uk
Junkfish

Nibley Festival is the birth place of Junkfish, so they go hand-in-hand. They have grown together and, although we are biased, we feel these guys are the best Festival Craft Area. Many other Festivals feel the same so we are lucky to have them with us each year. Kids can show their creative skills with lots of painting, sticking, costume making and junk modelling. And someone else clears up the mess!!
Silly science
It almost seems a given we open our Saturday with the amazing Silly Science show. Appearing on one of our bigger stages once again gave them more room for the madcap explosions, rockets and lots of funs for kids of all ages. After the show there was a chance to take part with their hands on workshops.
http://www.sillyscienceworkshops.com/
World Jungle - Kids Area
"Just get outside and play" - fun in the orchard with space hoppers, jenga, hula hooping, giant bubbles, fancy dress area and even create your own headdress, bandanas and skirts - also starring was the Magnificent Mr Kai!
https://www.worldjungle.org.uk
Wild Willows Forest School
A Forest School in The Orchard. What a success it was and who are we to deny kids another opportunity to get back to nature in a stunning setting
https://www.facebook.com/wildwillowsfs
The Woolly Circus
CLaN specialises in traditional crafts and ecology with the opportunity to try your hand at spinning and other crafts. The tiny Nomadic Museum of Natural History was also on site!
Miss Popularity Balloon Show
Miss Popularity is an International Balloon Artiste Extraordinaire! She spreads joy and smiles one balloon at a time. Using biodegradable latex balloons she entertains people of all ages and keeps them giggling while they watch with awe as she creates exciting balloon creations.
https://www.misspopularity.co.uk

Saturday Morning Mindfulness
Anna Rae-Jones www.annarray.uk is a coach, group leader and performer representing The GEM (Good Energy Movement) collective www.goodenergymovement.co.uk.
Gear up for a positive and expansive day at Nibley with this exploration into your 5 senses through mindfulness activities.
We at GEM love to help people feel boosted and uplifted. And there's no better tool to do that than with a laughter workshop! Using elements of laughter yoga, clowning, improv and audience participation Anna will lead you in laughter and general silliness. Know to cure all known ills!
And if this isn't enough :
- story telling
- inflatables
- Friday night football skills
...And lots of bubbles and walkabouts throughout the weekend
Sponsors