Tickets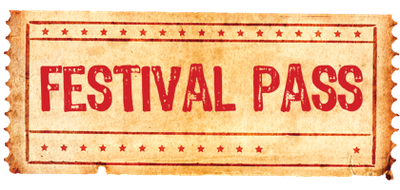 Our Early Bird tickets have now sold out. We will email tickets to all online purchasers, a month before the festival.
The next release of tickets will be the General Sale to be held in the New Year, dates yet to be confirmed!
Terms and conditions
We hope you have a fantastic time at the festival. We hate red tape but, like any festival, we have to have a little. We'd be grateful if you could read, digest and follow some simple T&Cs.
By purchasing a ticket and attending the festival, you are deemed to have agreed to comply with and be bound by these terms. We reserve the right to change these terms and conditions from time to time so please check back regularly - thanks!
Admission to the Festival Site is only permitted at the advertised times, with a correct, valid ticket. Adult tickets are not valid for teens or children. Teen tickets are not valid for children.
You must be 18 or over to buy Adult tickets and 21 or over to buy Teen or Child tickets. Any Teen or Child ticket transaction must either: include at least one Adult ticket, or: be associated (during the checkout process) with the email address of the accompanying responsible adult that is registered on our system.
Anyone under the age of 18 is expected to arrive at the festival accompanied by an Adult aged 21 years, who is on site, responsible and contactable at all times for the duration. A Challenge 25 policy will be used at the festival entrance so please ensure you have photo ID if you look under 25. Four under-18's per Adult is the maximum permitted.
Under 4's do not need a ticket, but will still be issued with a wristband. Please write your mobile number on all your children's wristbands.
We reserve the right to eject anyone behaving in a way likely to cause damage, injury, nuisance or annoyance, or failing to comply with any reasonable request from a representative of the Festival.
Illegal drugs and legal highs are not tolerated anywhere on site. This includes nitrous oxide gas, cannabis, and herbal highs, all of which can be very dangerous. Such items may be confiscated, and the holder ejected and reported to the police. Please help us keep everyone on site safe.
Appropriately qualified staff may search person and possessions for prohibited items.
The following are not permitted anywhere on site (including Campsite): glass (bottles, jars, drinking glasses, etc.), barbeques, fires, generators, fireworks, flares, smoke canisters, air-horns, animals except guide/assistance dogs (working and in harness), unauthorised amplified music or musical instruments and other any other items that the festival considers an unreasonable risk of harm or nuisance.
Setting off flares in a public place is a criminal offence that carries up to 3 months imprisonment. Anybody caught setting one off will face instant ejection from the festival and prosecution.
Camping stoves with one small gas canister are permitted on the camping fields. Use is subject to reasonable care and consideration of weather and proximity to tents.
Any bottles or glassware in caravans or campervans must remain inside the vehicle.
No bicycles, scooters, knives, poles or other items that could cause harm may be brought onto the festival arena (this excludes the camping areas).
Festivalgoers who are aged 18+ will be able to bring alcohol for personal consumption with them into the campsite. However, you cannot bring your own alcohol into the festival arena.
The Tent Field is vehicle-free so you will need to carry your tents etc. from the campers' car park.
Campervan pitches are 7m x 6m. Everything must fit in this space. One small 'pup tent', awning or gazebo is allowed within your pitch but must be 2 meters from neighbouring vehicles if used for sleeping.
A caravan towing car may be parked inside your pitch if it fits. If a towing car leaves site after dropping off a caravan it will not be permitted re-entry to the caravan area until Sunday morning and a separate carpark ticket will need to be purchased if the car is to remain on site.
The Campervan Field is for purpose-built and/or properly converted vans with fitted sleeping, cooking and washing facilities, and a V5 Certificate that recognises that vehicle as such. Caravans and trailer-tents ar permitted, but not just tents.
Sleeping is not permitted in any vehicle in the Parking Field.
Vehicles are parked at the owners' risk.
We can take no responsibility for loss, theft or damage to personal items. We advise you not to leave items of value unattended anywhere on site and particularly not in your tent.
The campsites and carpark must be vacated by 12 noon on Sunday. All rubbish and personal belongings must be removed. Kindly pay particular attention to tent pegs.
Our licensed bars will only serve alcohol to those aged 18+. Anyone lucky enough to look under 25 years old may be asked for proof of age.
We reserve the right to add, withdraw or substitute artists, and to vary the advertised programme and timings without being liable to pay any compensation whatsoever.
Photographs may be taken for non-commercial use only, at the discretion of the Festival.
Video or audio recording of performances is prohibited without express permission of the Festival.
By attending the festival you give consent for your image, likeness and voice to be included in official promotion of the Festival. If you are attending with a child under 18 years of age you automatically give your consent on their behalf.
Tickets are non-transferable, and the Festival's contract of sale remains exclusively with the original buyer, regardless of onward disposal. Tickets cannot be refunded, nor lost tickets replaced.
Tickets may only be purchased for personal use. No agencies or touts. We will investigate large or suspicious orders and we reserve the right to invalidate the purchase.
We advise you to take all steps necessary to ensure you are safe and well throughout the festival. We are not liable for any illnesses or injuries that you may encounter while participating in the festival.
Nothing within these terms is intended to exclude or limit our liability for death or personal injury caused by negligence.
We are not liable for any indirect, special or consequential loss caused by you attending or being unable to attend the festival.
These terms, and any non-contractual obligations arising hereunder, are governed and construed in accordance with the laws of England and Wales. The English courts have jurisdiction to hear a dispute arising out of or in relation to these terms. If you are a consumer resident in Scotland or Northern Ireland, the courts of that country will also have jurisdiction.