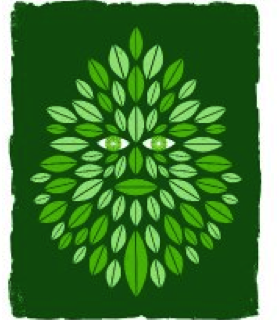 Environmental Impact
Nibley Festival has grown year after year – and this is something that we're of course delighted about. But as we grow in popularity our potential impact on the environment also increases. So we've put together a little bit of guidance to help all of us minimise our footprint on our beautiful site and the environment around it.

Travel responsibly
Travelling to our festival makes up one of the biggest chunks of our total carbon emissions generated.
Share your journey. If you've a spare space in your car or are looking for one, go to our GoCarShare page.
Go by bus. We've put on a free shuttle bus service - both ways all weekend - for Wotton, Charfield, Kingswood, Dursley and Cam residents. More details can be found on Getting Here.
Cycling would be a great way to get here - if you are a regular and experienced cyclist! (Storage will be available.) However, the roads around Nibley are hilly, windy, some places narrow, and busy - which unfortunately does not make them safe for a family.
How much impact is your journey having? Work it out here:
ecolibrium works with events, organisations and artists across the sector to tackle the environmental impacts of travel. Check in for advice about sustainable travel as well as tools and inspiration to take action and reduce impacts.
Recycle your rubbish
We provide recycling bins around the festival and campsites - please remember to use the correct bin to ensure the highest possible recycling rate. All food/drink retailers are required to use compostable containers and you will find separate bins so these can be sent to a commercial composting station.
Ditch pointless plastic
Help us reduce single use plastic bottles by bringing your own reusabe bottle. There's fresh clean drinking water throughout the site, tested by the local authority - so no need to spend your money on a new bottle. If you forget to bring a bottle you can buy one of our reusable cups for £1 from any of the bars.
Reusable cups
Following your feedback we now use re-usable plastic cups with the Nibley logo at our bars – saving the use and disposal of thousands of disposable plastic cups. It'll cost you just £1 for your first cup which you can then get refilled or exchanged for a clean cup at no additional cost. At the end of the festival you can keep your cup and any left overs will be cleaned and stored for next year. (If you have some already from previous years, don't forget to bring them along and save yourself the charge.)
Eco-Friendly Recycled Wristbands


This year we are using eco-friendly wristbands made from the recycled material rPET. PET is recycled polyester which is strong and durable. It is produced by collecting, sorting and recycling PET and then refining the material into flakes which can then be turned into new products, such as fabric.
Save Paper - Don't print your tickets! ...(**LIVs and Car Park Passes MUST be printed)
We can scan the barcode from your tablet or smartphone. (Signal can be patchy, so we advise you to have them downloaded before you leave home.)
Help us do more to protect the planet
There's also lots of other things we're doing on site to help give back to our planet such as trying to ensure food and drink is locally sourced where possible, and using sustainably sourced and recycled materials for festival signage where we can. We know we could do more and we'd love to hear your ideas on what more we could do - email info@nibleyfestival.co.uk with your ideas.

Huge thanks to illustrator Ben Javens for the use of his Green Man logo for our Green Space.
Sponsors