Tom Meighan (formerly of Kasabian)
Nibley 2023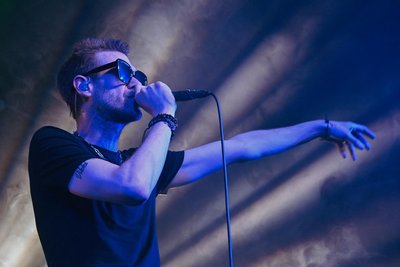 Former Kasabian frontman, part of arguably one of the biggest music artists in the UK of the past few decades, Tom Meighan is Nibley 2023's Saturday Headline Act. Tom Meighan has sold four million albums. He's headlined Glastonbury, Reading And Leeds twice and most other major festivals in Europe. He's had five No 1 albums and sung on classic anthems, streamed millions of times, as the lead singer of Kasabian.
What Tom Meighan hasn't done in his career until now is write songs. And the early results of Tom's songwriting are magnificent. What's new are a broad range of styles. In addition to the rock power and pounding groove of Kasabian, you'll hear a blissed-out euphoria, a tenderness and a lyrical depth resulting from a period of emotional maturity. The first taste of Tom's solo music is Would You Mind. Rather than simply stream it, it's a semi-acoustic anthem Tom wanted people to be able to own for nothing as a free download, to raise awareness of mental health. This was followed by the Put Your Foot Down EP and soon to drop debut solo album The Reckoning in April 2023 and accompanying UK tour.
There is a new excitement in Tom's music. Having waited years to become a songwriter, Tom shows a willingness to experiment in his new songs, while keeping the powerful vocals and mightily infectious way with a tune that led Tom to headlining festivals and stadiums throughout the world with Kasabian.
2022 saw Tom return to "intimate" venues, with numerous sellout shows at O2 Academies across the country where he previewed this first song writing of the former Kasabian singer's career. This in turn has led to numerous festival performances throughout the summer, two hometown sell out Christmas arena gigs and support slots for Noel Gallagher's High Flying Birds in 2023.
As well as showcasing his critically acclaimed new material, Tom has also been performing some of the era-defining classics which made his name such as Club Foot, Empire, Fire and LSF (Lost Souls Forever). But anyone expecting Tom to repeat the style of his old band will be stunned by where the singer is taking his own music.
A born frontman with an unmatched ability to get a crowd jumping, Tom's natural enthusiasm means he can't wait to return to the stage. Joining Tom in his band are keyboardist/guitarist Bnann Infidel, guitarist Chris Haddon, bassist Ele Lucas, guitarist Brodie Maguire and drummer Gareth Young. His live shows remain "Out of this World". We in turn can't wait to welcome Tom and his band to the Nibley Main Stage.
Headliners do not get more epic than this.
Performing on Saturday
Video links