Kosheen
Nibley 2023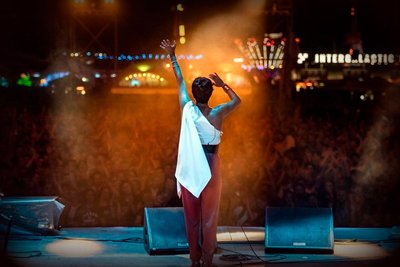 We are thrilled to announce live drum 'n' bass royalty Kosheen.
Kosheen are joining as Saturday's second headline act for this year's festival. Kosheen are one of the UK's booming live electronic music showstoppers. They broke into prominence with their debut hit 'Hide U' off their debut album in 2001, the platinum selling 'Resist', followed by crossover hits 'Catch', 'Hungry' and 'All In My Head'. Kosheen successfully placed two UK Top Ten albums, topped the UK and European music charts and won lots of awards with their unique blend of breakbeat rhythms of drum'n'bass to more traditional songcraft, a side of the band embodied by singer and songwriter Sian Evans.
They have been headlining festivals and stages ever since. This show breathes new energy into the Kosheen set with original drummer Mitchell Glover and world class musicians who bring a new edge to the sound. From start to finish an emotive performance and a definitive voice which is guaranteed to continue to move and inspire audiences as she always has.​
Performing on Saturday
Video links