The Andy Quick Band
Nibley 2023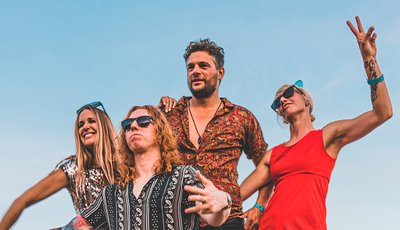 Andy Quick is an award winning songwriter with a reputation for wild live shows.
The Andy Quick Band formed in 2016 and were off to a great start as first single 'Liberation' impressed Songwriting Magazine who crowned it song of the day, followed by slots at some of the best UK festivals including Glastonbury, NASS and Boardmasters. 7 years later and with
hundreds of experimental live shows under their belt they have blossomed into a confident bandwith a heavyweight setlist.
Andy is an eclectic songwriter and much like his first project Land Of The Giants, this new musicis made for festivals; it's rootsy, vibrant and joyful. Musically the Andy Quick Band are impossible to pin down and have created a fascinating mash up of indie disco, raw blues, world beats, and tropical rock and roll! Wrapped around enveloping lyrics and huge choruses. The band are currently recording their new album 'Revelations' set for release in 2023. This year playing on the Renishaw Andy is bringing his 7 piece band to light up the stage.
"A soul punch of indie, roots and blues. Exceptional pedigree! 10/10" - Ireland's Unsigned & Independent
"...one of the finest front men we can boast in the South West....some of the best music we've heard this year. Watch out!" - BBC Introducing in the South West.
"...soulful, funky, and bursting with confidence..." - THE DAILY JAM
"Infectious music, spellbinding musicianship...a great night out" - MNPR Magazine
Performing on Friday
Video links
Sponsors