On Fire & Rescued
Nibley 2023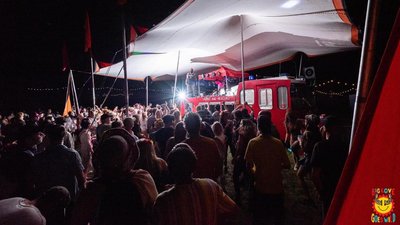 Sadly, the legen-diary Mr Whompy has gone to the great ice cream parlour in the sky, but fear not the Vinyl Frontier team have secured the services of the amazing On Fire & Rescued.
On Fire & Rescued is the world's only genuine 1970's converted disco fire truck! With a whopping 10k sound system comprising of 2 Turbo sound twin 18 subs, 5 twin 15, Kicks,/ Mids/ Hi, and mid top satellite speakers pole mounted on the subs. Basically, it looks and sounds phenomenal.
Manned by Nick Terrific and Dickie Nutter, seasoned and retained entertainers with over 40 years of experience between them of putting on the best parties. On Fire and Rescued has appeared at numerous festivals and events including at Camp Bestival, Gone Wild and Valley Fest. We are looking forward to unleashing the fire on Nibley, expect an even stronger line up than ever before in the Vinyl Frontier arena.
From Friday evening and also
Performing on Saturday
Sponsors