Melin Melyn
Nibley 2023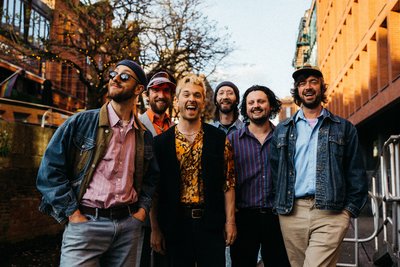 Melin Melyn are one of the most exciting acts to emerge from this next golden generation of Cymru artists. Pushing forward on a less traveled bridge between psychedelia, surf , folk and alternative rock. The love child of legends and fellow countrymen Gruff Rhys & Gorky's Zygotic Mynci (to name a few), their music is also distinctly unique and through their specific and multi-coloured lens.
A highlight of last summer's festival season with stints at EOTR & Green Man, Melin Melyn were praised by The Financial Times, NME, The i, The Line Of Best Fit and more as one of the live acts to watch, and we can safely say their sets are absolutely joyous and downright fun, we cannot wait to introduce Nibley to their psychedelic catchy and eccentric vintage pop.
Their debut EP 'Blomonj' was critically acclaimed, with support from the likes of NME, Dork, DIY and over 21 spot plays on 6Music (Huw Stephens, Cerys Matthews, Craig Charles, Marc Riley, Chris Hawkins), and selling 250 vinyl D2C. They were also recently touted by The Independent as Ones To Watch in 2022 as well as the NME 100. Their critically acclaimed debut EP 'Blomonj' released in August 2021 is less built on individual "songs" and more on weird tales of colourful characters and magical worlds that aren't in fact that far removed from today's off-kilter reality. It's eccentricity at its finest & paradoxically most accessible. The six-piece are not so much round pegs in square holes as they are determined to throw the whole box out.
Performing on Saturday
Video links
Sponsors