Imperial Leisure
Nibley 2023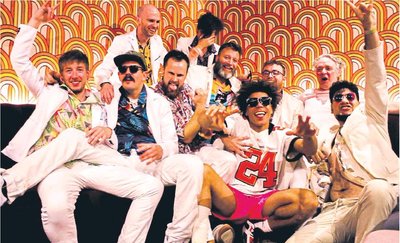 Firm Nibley favourites, Imperial Leisure are back! When a wind blows no good you can rely on Imperial Leisure to bring the sunshine, in the shadow of disaster they rise to entertain you.
From their humble beginnings in London as a party band born out of school friendships, Imperial Leisure have continued to go from strength to strength, forever evolving their style but sticking true to their reputation for delivering fun and high energy live performances. Taking influences from all around, the music in part is a fun-loving throwback to the British 2-tone ska era delivered with rock'n'roll hiphop attitude.
Musically they draw on inspirations ranging from The Specials, Roots Manuva, Less Than Jake, and Youngblood Brass Band to Rage Against the Machine and The Streets. As that list suggests, their music is a bold and adventurous affair, never predictable as evidenced by their trio of well-received albums. They are persistently tagged as ska punks but whilst firmly embracing various styles, Imperial Leisure have many other flavours open to their enterprise.
Performing on Saturday
Video links
Sponsors