Fidget and the Twitchers
Nibley 2023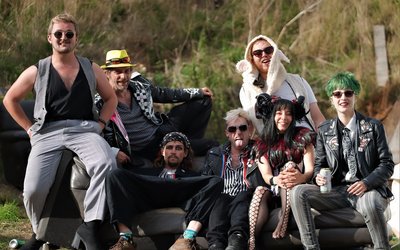 On a recent scouting mission, one song into their set, the team knew we had to book Bristol based ska-punks; Fidget & the Twitchers. Brass fuelled lunatics, spurting punchy beats and social absurdities in a joyous format.
Don't be fooled by the name there is nothing twitchy or erratic about this incredibly tight band. Formed in lockdown and practicing at social distance in local parks they have already produced their first album "Full Steam Ahead" that highlights their raucous sound with a spark of energy and verve that's impossible to fake.
Fidget and the Twitchers bring a playful assault of bouncy ska-punk, straight from Bristol's murky musical swamp to your eagerly awaiting earholes. Expect cheeky lyrical wizardry, old-school funky rhythms, and infectious horn lines all blended together into a bubbly broth that is guaranteed to get you moving. Drawing from eclectic influences spanning the musical spectrum all the way from swing to drum n bass, Fidget and the Twitchers won't stop until the whole world is dancing.
They are guaranteed to get you on your feet. Their live show has already earned them slots at Boomtown, Bearded Theory, Balter Festival and Incider Festival amongst others. For anyone looking to start their Nibley party with a bang they are not a band to be missed,
Performing on Friday
Sponsors