The Rosellys
Nibley 2022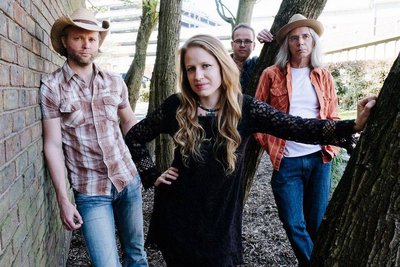 The Rosellys formed when Rebecca (guitar/banjo/vocals) met Simon (guitar/vocals/fiddle). Allan (pedal steel/resonator) joined the band in 2006. Matt Kirby (Bass/Vocals) and his son George (Drums) joining later to provide the rhythm section.
Described perfectly by Nashivlle Over Here; "The Rosellys are a band who make no apology for their love of Americana. Musically, they blend English accents with lyrical references to both the UK and US alongside well pitched bass, feisty drum beats and stunning pedal steel and fiddle to create a sound that walks the fine line between Celtic folk and Americana".
Influenced by artists such as Emmylou Harris, Gram Parsons, Alison Krauss, Chris Stapleton, Gillian Welch and Dave Rawlings, it is clear The Rosellys have an absolute love for Americana music.
In 2015 The Rosellys signed to Clubhouse Records (Redlands Palomino Co, Cale Tyson, Don Gallardo) and released their first full band album 'The Granary Sessions'. It gathered praise from musicians, critics and audiences alike. It led to extensive touring across the UK, Australia and America - notably the Southern States where San Antonio (Texas) has become their second home. They have appeared on numerous radio shows in the UK and USA. We look forward to welcoming them to Nibley.

Performing on Saturday
Video links
Sponsors