The Allergies - DJ Set
Nibley 2022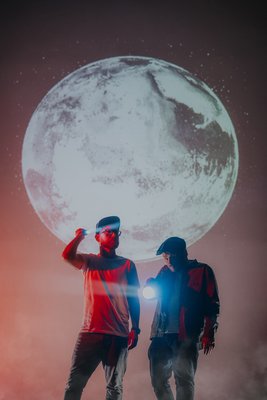 We are thrilled to welcome The Allergies to Nibley.
"The Allergies are neck deep in the world of scratchy samples…This is truly funk and soul for the 21st century!" – Craig Charles, BBC 6 Music.
Since forming in 2012 The Allergies have made it their mission to reshape funky vintage sounds for the modern dancefloor.
Both skilled turntablists in their own right, and known for their 45 only vinyl sets, the duo of DJ Moneyshot & Rackabeat first bonded over their love of classic hip-hop and beats, then decided to pool their knowledge and skills into making their own music.
"We like breaks, funky basslines, horns, and dancefloor grooves. We're inspired by the golden eras of funk, soul, disco and hip-hop, and we try and cram that into three and a half minutes".
Along the way they've racked up two 'Tune of the Month' awards in Mixmag, topped download charts, and helped headline the BBC 6 Music festival in their native Bristol last year.
In 2015 they were snapped up by Jalapeno Records, and dropped their debut album, As We Do Our Thing, a year later. On release it gained 'Album of the Day' status on 6 Music, and became the bestselling hip-hop album in the iTunes and Juno charts.
The LP took in all their funk, soul, disco, hip-hop and breakbeat influences, and featured guest vocals from HypeMan Sage, BluRum13 and Ugly Duckling's Andy Cooper, who mesmerized in lead single/video, Rock Rock.
The Allergies' second album Push On charged up the UK's official indie album charts on its debut and became album of the week on Juno. The singles started racking up serious plays on BBC 6 Music and BBC Radio 2 in the UK as well as across Europe, with a second 6Music 'Album of The Day' and a coveted 'Album of the Year' award to crown things off in 2017. Not to mention a feature in national paper – The Observer and another album of the year award from Juno Records.
After breaking onto the scene with a Mixmag 'Tune of the Month', The Allergies (DJ Moneyshot and Rackabeat) continued in their mission to bring re-fuelled funk and feel good hip-hop to the masses. The three LPs that followed, on Brighton's Jalapeno Records, were sonic steps forward for the pair, winning them die-hard fans and BBC 6 Music 'Album of the Day' and 'Album of the Year' awards along the way.
Performing on Saturday
Video links
Sponsors