The Flyin' A's
Nibley 2022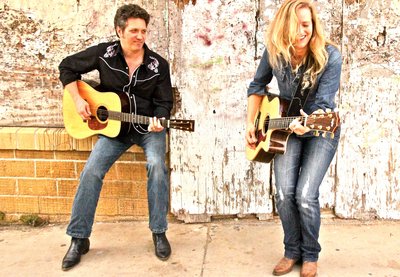 The Flyin' A's perform Americana with a Texas Kick.
This husband and wife duo Hilary Claire and Stuart Adamson - better known as The Flyin' A's - hail from Austin, Texas. You can hear their Texas roots in all they do. This high energy duo is famous for their top notch songwriting, breathtaking harmonies, and exceptional live performance. Their latest album No Holds Barred was released in February 2020, just before things shut down across the globe. It was climbing the US charts and has received outstanding reviews! It will be re-released in the Spring this year, and a US and World Tour in Summer 2022. As part of this tour we are incredibly excited that they will be joining us at Nibley.
The Flyin' A's all began after their meeting in 2003 at the Kerrville Folk Festival. Stuart enlisted Hilary to serve as a backup singer for his own band. But as her vocal prowess sharpened and grew, she found herself being pressed more and more towards center stage until a true collaboration emerged. The pair married in 2005, and the following year the Flyin' A's released their first album, Blacktop, Back Roads. Since then the duo has toured in Texas, across the U.S. and internationally, racking up some impressive endorsements en route.
From Stuart Adamson's outstanding lead guitar work and gritty vocals to Hilary Claire Adamson's powerhouse vocal gymnastics and lilting harmonies, it is no wonder this duo is quickly gaining momentum both at home and abroad. They combine the best of Texas country, southern blues, folk and gospel to create an original sound that is all their own.
"A musical duo that is so hot right now, you'll wanna cool your jets...land and take a listen to The Flyin' A's"( Jason Wheeler, CBS News).
Performing on Saturday
Video links

Sponsors