The Covasettes
Nibley 2022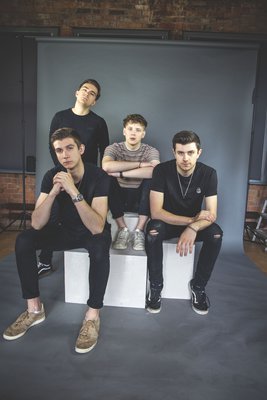 Nibley loves a great up and coming Indie band and, opening the main stage on Saturday this year, we bring you The Covasettes. Just listen to 'Spin' and you'll be tapping and bouncing along after the first few bars!
They recently featured on BBC Radio 1's Future Artists and we think the indie-rock four-piece from Manchester will be gracing ever bigger stages in the next few years. They are made up of frontman Chris Buxton, lead guitarist Matt Hewlett, bassist Jamie McIntyre and drummer Matt Buckley.
They burst onto the scene in late 2017 with the release of their debut single, 'This Feeling,' which combines Buxton's infectious vocals and lyrics with Hewlett's world-ending riffs and the driving rhythm of McIntyre and Buckley. Their music clearly reflects their home city's strong musical heritage whislt making it their own.
In 2018 the group released three more singles, 'Wondering Why', 'Top Drawer' and 'Wild'. Those releases proved that The Covasettes are ones to watch, and helped them achieve a place on Spotify's 'Indie List' and 'Summer Indie' playlists, gaining over 200,000 streams in just a couple of months. Furthermore, 2018 saw The Covasettes play sold out shows in their hometown of Manchester as well as Derby, London and Leeds.
The Covasettes performed at Leeds Direct Arena for the Radio Academy after being crowned 'most exciting band' for 2018. Other notable performances include a sold out show at Leeds Stylus, supporting The Sherlocks on their tour.
In early 2019 they played their first headline tour and released their fifth official single, 'Like You'. They have stepped it up a notch with their debut EP 'It's Always Sunny Above the Clouds,' which boasts four upbeat summer anthems. 2021 saw more extensive touring and sell out shows. They have secured support slots for The Sherlocks in 2022 and are shortlisted for the emerging talent stage of Glastonbury Festival.
Performing on Saturday
Video links
Sponsors