Kate Lomas
Nibley 2022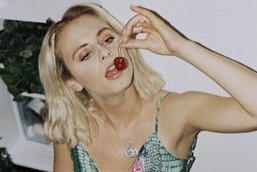 Multi talented singer-songwriter-producer Kate Lomas headlined the Cheshire Cat in 2019 and blew the crowd away with her unique brand of Indie Synth Pop. We can't wait to welcome Kate back to Nibley, where this year she will be performing on the Main Stage.
Dreaming about the wild side of life, Kate Lomas wants us to party to her own homemade sad-dancing pop music. Having commanded support from BBC Introducing as well as being featured on Radio 1 and Radio 2, she is carving her own niche with her distinctively British self-produced indie-pop bangers. Whilst retaining her own unique style there are shades of Ellie Goulding, Robyn, Marina and the Diamonds, La Roux and others in her work .
2018 saw Kate release her dreamy single 'Sweet Strange Days' - a trippy-pop journey that has spent the summer floating through the airwaves in H&M stores worldwide after being championed by Indie Shuffle as having "an upbeat, uplifting energy that I can't get enough of." 'Sweet Strange Days' was followed by 'Drink 2 U', the pity-party pop anthem and was BBC Radio 1 Introducing Track of the Week. 2019 saw her release one of the catchiest pop songs of the year with 'Happy Like This' which in turn lead her music being streamed on Spotify 1.3 million times.
Performing on Saturday
Video links
Sponsors