Alex Lipinski & The Crown Electric
Nibley 2022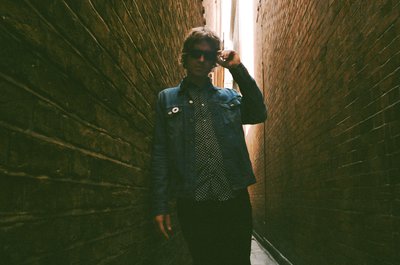 "Love the record! Way to be! Emotionally expansive, tough and pretty…honest but WORTH IT!" That's a review to write home about, by any standard, and from anyone.That it arrived unsolicited from Evan Dando and was then closely followed by an impromptu video, inviting Alex Lipinski to "come fishing" and it should be immediately clear that this isn't 'same old, same old'.
Liam Gallagher is a fan, which resulted in Alex belting out Elvis standards within the unlikely domesticity of Liam's own North London kitchen, in a surreal battle of anthems; the voice of a generation responding with a heartfelt rendition of 'Acquiesce' much to the amusement of Bonehead. Lipinski just happened to be in the middle of the critically acclaimed 'Phoney's & The Freaks' collaboration, which saw them perform live together from Rome to Los Angeles.
His last album, the self-titled 'Alex' was produced by The Brian Jonestown Massacre's Anton Newcombe in Berlin. Hailed by Newcombe as "a young man worth my time and efforts" and also observing that "make no mistake, these songs have all the qualities of timeless music".

No coincidence then that for 'For Everything Under the Sun', his soon to be released third album, Lipinski was sought out by Wolf Alice and Elvis Costello producer Michael Smith who had the same desire to work with a voice that Rock & Reel magazine describes as "channelling the best tones of Lennon and Orbison and makes them his own", and songs which BBC Radio 6 legend Tom Robinson declares "sweep you up and carry you along.

His music has elements of The Byrds sun-soaked jangle sit teasingly across the melodic craftsmanship of Abbey Road era Beatles: the whole married to glistening harmonies which would not be out of place on Pet Sounds. Alex doesn't attempt to disguise where his music comes from, or where his personal flag is planted: but somehow it remains a 21st century thing. It is a warm, impassioned letter of thanks to musical legacy and yet, ultimately, something altogether his own.
His music is a truly articulate piece of work, from a songwriter who has served his apprenticeship. A lot of miles covered in what he himself acknowledges has been the only choice he ever had. Full of authenticity, artistic integrity, a gift for melody, and for harmony, is there.
Performing on Saturday
Video links
Sponsors