Sugarhill Gang, Grandmaster Melle Mel & Scorpio
Nibley 2019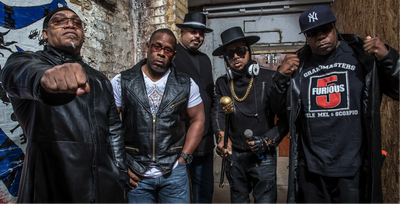 When it comes to hip hop legends, our Saturday co-headliners, the Sugarhill Gang, Grandmaster Melle Mel and Scorpio of the Furious Five, can take that title with confidence.
Grammy Award and Rock & Roll Hall of Fame inductees, they were responsible for getting the first ever rap song into the Top 40 for their seminal single, 'Rapper's Delight'. They carried on delivering knock out track after knock out track and are widely regarded as among the most influential hip hop acts ever.
Known for their use of funk, soul and disco cuts - while collectively rapping over the contemporary style of sampling - the group of talented MCs own a deserved slot in the hip hop hall of fame.
You don't get much bigger than this: this is arguably where rap music began.
They'll be bringing their classic New York genre to Nibley Festival this summer, including playing legendary tracks such as Rappers Delight, Apache, The Message, White Lines and Freedom.
Performing on Saturday

Video links
Sponsors