Sleeper
Nibley 2019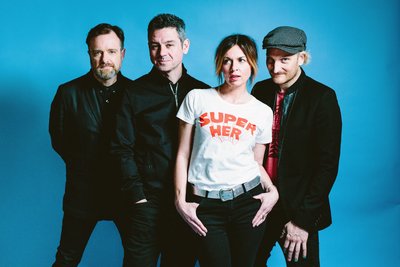 After hibernating for twenty years Britpop favourites Sleeper are back and we are thrilled that they will be performing on the Nibley Main Stage Saturday.
Sleeper enjoyed huge critical and commercial success in the mid 90s with eight Top 40 singles across three top 10 albums with sales into the millions. Known for their astute, observational lyrics and big, hook driven melodies, Sleeper had two tracks featured on the era defining soundtrack to 'Trainspotting', named as one of the best film soundtracks of all time by the likes of Rolling Stone.
Sleeper garnered front covers across the music press and appeared numerous times on key music shows of the time like TFI Friday and Top Of The Pops. The band have played the main stages of nearly all the big festivals of the day from Reading, Glastonbury and V. They supported Blur on the infamous Park Life tour as well as REM's 65,000 sell out show at Milton Keynes Bowl.
Original members Louise Wener (vocs, guitar), Jon Stewart (guitar) and Andy Maclure (drums) are newly joined by Kieron Pepper (previously of The Prodigy) on bass. The band's first headline show in 19 years was a sell out date at Shepherd's Bush Empire in December 2017 followed by a sell-out UK tour in Spring and Winter 2018.
Sleeper are very much awake in 2019 with a new album, The Modern World, a brilliant single, Look at You Now, and another headline tour. Their set at Nibley will be epic - don't miss it!
Performing on Saturday
Video links
Sponsors