RSVP
Nibley 2019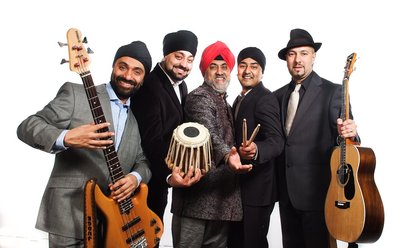 RSVP, the UK's number one festival live Bhangra band are back to open the main stage on Friday.
RSVP have been spearheading the renaissance of live Bhangra in the UK, opening doors for other artists and introducing Bhangra to the mainstream. From massive stages at Glastonbury and Womad to concert venues around the country, they're guaranteed to get even the most reluctant on their feet, leaving audiences breathless with excitement.
Every show comes with an introduction to Bhangra dance. Everyone's included in RSVP's Punjabi party style. With musicians drawn from two generations of one family, RSVP are wholly rooted in an authentic living tradition, yet unafraid to innovate. This is the ultimate celebratory Indian music.
Bhangra is the traditional folk music of the Punjab region of India. Brought to the UK by the Punjabi diaspora, it has absorbed many elements from contemporary popular music to reinvent itself. As part of this progression it strayed far from the live arena to become a club and dj style built from synths and samples. RSVP have made it their mission to make it a music performed live again – to let it breathe and live once more – and to take it back to the festivals and parties where it was originally created.
Performing on Friday
Sponsors