Kitten and the Hip
Nibley 2013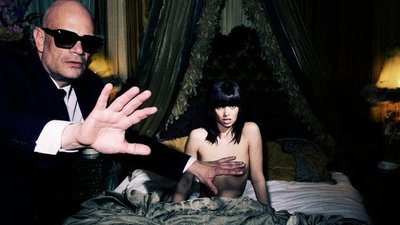 Ashley Slater is best known for the band he set up with Norman Cook (aka Fatboy Slim) and Jesse Graham - Freak Power. The Canadian born hipster brought effortless cool and infectious trombone slides delivering amongst others the number 3 hit single "Turn On, Tune In, Cop Out". Prior to that, the classically trained Slater had been a sought-after session musician for the likes of The The and The Rolling Stones but it was alongside Cook that he seemed to find his groove.
He has continued to work with Fatboy Slim contributing vocals on several albums but he has been in high demand elsewhere working with the likes of Hugh Masekela, The Dub Pistols, Elvis Costello and Debbie Harry. He has also had his own band BigLounge operating in parallel.
His most recent venture Kitten and The Hip brings together Slater and Scarlett Quinn who has featured as singer on many a cool dance track. Throw in some Electro Swing, some R&B, a dash of camp Disco, a dollop of drum and bass and some crazily hooky pop tunes and there you have it – the brilliantly mixed up sound that is Kitten and The Hip. 2012 saw the band playing at Bestival, Secret Graden Party, Glade and Beatherder – 2013 will see them at many more festivals, one of which will be Nibley.
Performing on Saturday

Sponsors