The Roustabouts Collective
Nibley 2023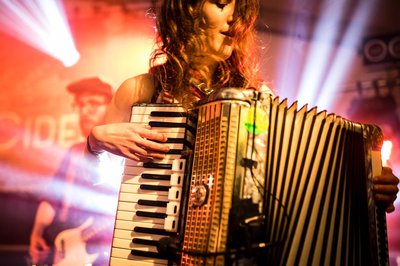 Roll up, roll up! The Roustabouts Collective are back!
The Cornwall based Roustabouts Collective offer a musical cabaret experience that will amuse, bemuse and amaze. Performing a theatrical mixture of gypsy, balkan, folk, dance and swing influenced original songs and arrangements.
Expect rich harmonies, fast paced strumming, groovy bass lines, banging beats, virtuoso fiddle work, knees-up squeezebox merriment, a bombastic trombone, hair raising electric solos and a big slice of circus to top it all off!
Over the last few years, they have performed at a number of events and festivals over the UK including Boomtown Fair, Wonder Fields, Great Estate, Bestival, Henry's Little Big Gig, Holifair Family Festival, Just So Festival, Grinagog, Balter, 3 Wishes Faery Festival, the Masked Ball and of course Nibley 2019.
Their debut album 'Contortionary Tales' contains party anthems inspired by the circus, travelling, and plenty of cider. The Roustabouts Collective Live Band are… Samara Honeychuch – Vocals, Rose Smith – Vocals, Jack Addy - Acoustic Guitar & Vocals, Joe Roberts – Bass Guitar, Caroline Redshaw – Accordion, Fabiane St Clair – Violin, Anthony Colgate – Electric Guitar, Jack Fitt – Trombone, Eddy Fowler – Drums. This year this raggle-taggle troupe will not only boast violin, accordion, trombone, vocal trio, guitarists, bass, perccusionists but stilt walkers, fire eaters and spinners!
Performing on Saturday
Sponsors