Mother Vulture
Nibley 2023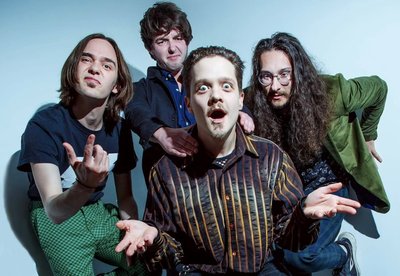 We've regularly been asked to bring something heavier to Nibley, so are introducing you to the wild West Country band with ambition, energy and killer tracks; Mother Vulture.
They are one of the most sought after, up and coming live acts you can hope to see. Bringing a Hectic Blues Punk show so chaotic it will leave you with someone else's shoe in your drink and an appointment with the hearing doctor. They have already garnered a reputation as a band so good that other acts don't want to go on after them. Such is the insanity and energy on stage you cannot take your eyes off them. They describe themselves as; "a bit scary. But not properly – we're just funny. We're up there beating ourselves up… imagine Wile E. Coyote smashing himself to pieces. We don't have a lot of self-preservation when we're playing. But Matt [West] on drums is there at the back, just holding everything together. We never stop playing the music." The vocal range of lead singer Georgi Valentine is as impressive as anything Mike Patton produced in his Faith No More prime. Driving bass from Chris ~Simpson and powerhouse riffs from guitarist Brodie complete this incredible band's sound.
Full of musical reference points yet sounding distinctly their own. Listen to their album and you think each next track must be the highlight, only to find the next song up the ante again and again.
Already being lauded and described as "one of Britain's most exciting new noises" by Kerrang! and "The new kings of British rock music" by Distorted Sound, Mother Vulture are turning heads with their now infamously energetic live shows and critically acclaimed debut album Mother Knows Best. Combining off kilter octave-pedaled alt punk fury with the bombastic and eccentric tendencies of stadium filling rock legends creates an outfit that were as at home at Bloodstock as they were at ArcTanGent. Everyone agrees it's a hard sound to put a finger on, but it's impossible to look away.
Mother Vulture are fresh off yet another well attended UK tour and sell out album launch at Rough Trade in Bristol, as well as festival appearances at ArcTanGent, Bloodstock, Bearstone Croatia, Leopallooza and Steelhouse. Their debut album Mother Knows Best is out now and has been described as "An explosion of monster hooks, punkoid ferocity, psychedelic moments and modern twists" by Classic Rock and "Somewhere between Royal Blood at their fuzziest, Biffy Clyro at their heaviest and Queens of the Stone Age at their most crazed and chaotic" by Kerrang.
We just hope the Renishaw stage is still standing when they've finished but if not we have no doubt it will have been worth it!
Performing on Saturday
Video links
Sponsors