DJ MILLZ
Nibley 2023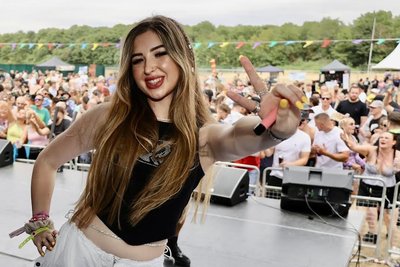 Millz is an extremely passionate female Drum & Bass/Jungle DJ, who took the UK by storm during summer 2021.
With her growing following, she has immediately secured bookings at: Glastonbury, The Warehouse Project, E1, EGG London, Boxpark, New World Festival as well as other various clubs/festivals, due to her authentic skills behind the decks. She has grown up around music from a very young age, with her father "Nicky Blackmarket" - the D&B/Jungle DJ and owner of former record shop BM SOHO, he, who is her biggest musical influence.
With a hard working ethic, she is determined to carry this through to the next generation!
MILLZ started out playing on THC Radio and across London's airwaves, which has jumpstarted her career in the industry. She has secured herself a residency on the foundation station 'Kool Radio' London, with a number of other guest shows and mixes on radio shows including: Rough Tempo, Life FM and Unity DAB. As a DJ, she is able to play cross over sets with confidence and a great understanding of Drum & Bass and Jungle, whilst also adding some twists of jump up and liquid into her live sets.
With this being said, MILLZ has a very exciting journey ahead of her, bringing new talent and plenty of energy to the decks! We can't wait to welcome her to Nibley.
Performing on Friday
Sponsors