Joanna Cooke
Nibley 2023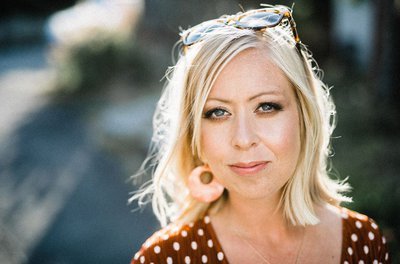 Motown legend Martha Reeves summed it up perfectly, describing Joanna Cooke as "the baby girl singing the blues". Joanna, much like her South West blonde counterparts, Joss Stone and Jo Harman, demonstrates that true soul and emotional connection is not simply constrained by colour or creed. Moreover, her self-penned songs leave a lasting impression on audiences, by dint of their raw honesty and song craft.
Joanna's back story is that she grew up in a strict but passionately artistic family, where her father's blues records by greats such as Howling Wolf and Robert Johnson became the soundtrack to her upbringing. Joanna had a restless desire for music. She taught herself piano on a keyboard she found in a skip and was soon writing songs that brought people to tears.
Fast forward a few years and this self-sufficiency, drive and talent now sees Joanna performing with big name artists, supporting the likes of Rag N Bone Man and Paloma Faith, and playing her own shows at both Festivals and notable venues.
Cutting her teeth with 3 initial EP's, all of which all drew positive reviews, 2021 saw Joanna step it up a gear releasing 2 more notable singles, "No Stranger To The Blues" and "Give It Up". Both were recorded 100% live with the renowned Masterlink house band (aka the multi million streaming band 'Redtenbacher's Funkestra') featuring musicians whose credits included the likes of Elton John, David Bowie, Tom Jones and Van Morrison. Both tracks attracted international airplay, with 'No Stranger To The Blues' also being chosen by Spotify for the editorial playlist NU-BLUE. As well as her own records, Joanna's vocal samples have been used around the world on some very successful electronic dance music tracks and she continues to co-write and sing on tracks with international producers.
More new music in 2022 saw the release of Joanna's new 6 track EP 'Kaleidoscope'. Stylish arrangement and production comes from well respected polymath musician/producer/arranger Mark Edwards, (Carleen Anderson, Beth Rowley) who brings out the very best from Cooke and her songs.
Media "This is how it's done...soulful and epic, Joanna Cooke is bursting with raw talent!" - BBC Introducing.. "Her voice is incredible....she really is becoming a tour de force" - MusoMuso "(Do It Slow)- an achingly beautiful and vulnerable touch of blues" - Ital.Massive "(Do It Slow)..has that warm flashback sound that'll make good company with Aretha Franklin's early '70's sides." -SoulTracks.com (USA) " ..a voice that drips with soul. Joanna takes a song and layers it over you like warm honey until it floats you away" - Dart Music " (No Stranger) Beautiful, absolutely stunning vocal. Joanna Cooke - Stunning stuff." - HRH Blues with Beastie Radio Show " (Give It Up) "Wonderful song. Beautifully sung" - Blues Spectrum Radio show.
Performing on Saturday
Video links
Sponsors