Dub Pistols
Nibley 2023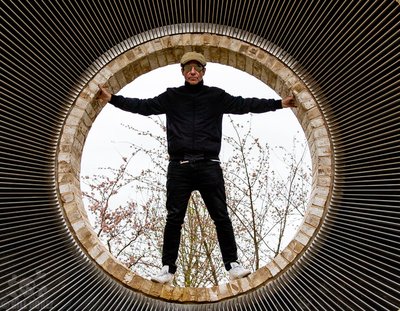 Dub Pistols DJ set - Barry is Back... this year dropping an epic set in the Vinyl Frontier. We are delighted to invite the head honcho of the Dub Pistols to DJ for us. In fact it didn't quite feel like Nibley without the original Pistolero putting on a performance. Like his incendiary live shows, the Dub Pistols DJ sets are a riotous mix of dub, drum & bass, hip-hop, punk and ska.
The Dub Pistols coalesced in the mid-'90s and initially surfed the big beat wave along with acts like the Chemical Brothers and Fatboy Slim. They had chart hits like 'Cyclone' and 'There's Gonna Be A Riot' on Concrete Records (a somewhat dog-earred and overplayed copy of which sits in the collection of one of the festival directors), remixed the likes of Moby and Limp Bizkit, and made dramatic inroads into America. Their debut album 'Point Blank', cemented their position as party-rockers extraordinaire, and by the time it came to their second album around the 'Six Million Ways To Live', with guest vocals by reggae great Horace Andy and lead singer of The Specials, Terry Hall — they were more concerned with some of the world's problems.
As the noughties progressed, they signed to Sunday Best and went a bit more poppy for 'Speakers & Tweeters', which included cover versions of 'Rapture' by Blondie, 'Peaches' by The Stranglers and 'Gangsters' by The Specials – a track they had been making their own live. After guesting on their second album with 'Problem Is', estranged Specials singer Terry Hall started singing live with them, and the warm reaction he received from music fans was instrumental in him agreeing to reform his infamous 2-Tone band a few years later.
Next Dubs album 'Rum & Coke', so named after some infamous recording sessions in Barbados, introduced more guest vocalists such as former Freak Power man Ashley Slater and Beats International gal Lindy Layton, and with long-player 'Worshipping The Dollar' in 2012 they consolidated their position as one of the foremost festival-rockers in Europe.
2015 brought 'The Return Of The Pistoleros' and then 2017 saw their biggest selling album to date 'Crazy Diamonds'. Non stop touring and creativity in the studio saw their fan base grow in numbers with continued support from all corners of the planet. Further albums haev followed and the creation of what is the cherry on top of the festival season with perfectly curated Mucky Weekender Festival.
So look out Nibley, here come the Dub Pistols.
Performing on Saturday
Sponsors