Tom A Smith
Nibley 2022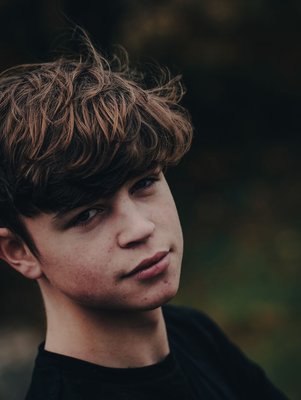 Despite being only 17-years-old, Sunderland-based newcomer Tom A. Smith has already achieved incredible things. He played aged just eight, at legendary venue The Cluny, performed at Glastonbury before he was in secondary school, and Tim Burgess handpicked him to play at Kendall Calling, as the festival's youngest ever performer. He has played live with local hero Sam Fender and Indie giants Catfish & The Bottlemen. And recently released his stunning debut single 'Wolves' produced by Larry Hibbitt (Nothing But Thieves/The Snuts/Sea Girls).
Channelling the same warm and euphoric sound as The Cure's Robert Smith, 'Wolves' perfectly establishes his rich and soaring direction through a bold and contemporary lens. With its broad and driven production layered effortlessly over Smith's own passionate vocals, his debut effort makes for powerful listening and showcases a true talent on the rise.
Tom A. Smith's self-uploaded performances have won him fans amongst rock and roll royalty. The week David Bowie passed, Bowie's widow Iman shared Smith's cover of Bowie's Lazarus online, commenting on the emotional impact of Smith's rendition. Blossoms recognised him from one of his videos as he was watching them from the crowd and invited him backstage, while Morrissey - not a man known to lavish praise or endorsements on others - played Smith's cover of Please Please Please Let Me Get What I Want as his walk on music on a recent US tour. Nile Rogers, James frontman Tim Booth, indie legends The Coral, and many more besides have shared footage of his performances across the globe.
Smith says "Music is always what I wanted to do. I just fell in love with it. I asked for guitar lessons when I was four. It's all I've ever known."
Expect to see much more of Tom across the media, as well as many festival stages this year. He is ear-marked as one to watch in 2022.
Performing on Saturday
Video links
Sponsors