Noble Jacks
Nibley 2022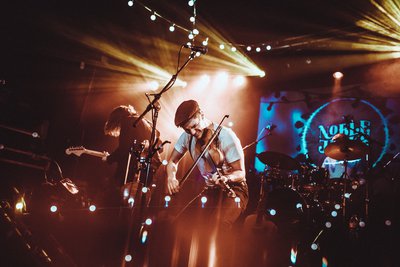 With the fiddle leading the charge, Noble Jacks are out to take no prisoners with their high-energy footstompin' rhythms, which have taken crowds across the UK by storm.
2017 saw the release of Noble Jacks' debut album; "What the Hammer" to much acclaim. A violin driven thrill ride, the band set out to capture the raw energy of their notoriously hectic live shows. Achieving radio play internationally, including support from BBC Introducing and Radio Caroline, the riotous album has become a firm fan favourite.
Since this point Noble Jacks have been touring relentlessly, with sold out shows across the UK on their headline tours, as well as shows at major festivals including Glastonbury, Isle of Wight and Bestival, plus major European festivals. With their second album; "Stay Awake", released Spring 2019, the Jacks went straight into the top 10 Official UK Americana Album Charts – with a sold out Concorde2, Brighton (650 capacity) launch party. The end of 2021 saw a further sell out tour and over half a million streams of the "Dreams Carry Me On" video.
Hailed as the finest purveyors of folk-influenced Americana, the band were invited to showcase at this years Americana Fest in Nashville where they went down a storm! We look forward to them doing the same at Nibley.
Performing on Saturday
Video links
Sponsors