Dutty Moonshine Big Band
Nibley 2022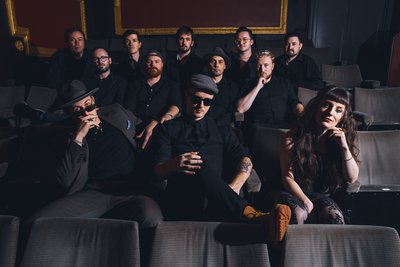 As Nibley festival attendees lucky enough to see their set in 2019 will know, it is difficult to pigeonhole Dutty Moonshine Big Band.
The simple way to describe them is "a live Electronic Dance act". But lets face it that doesn't even scratch the surface.They're crammed full of Jazz trained musicians and whilst they pay homage to the genre of days gone by, Jazz they are not.

They are a loud, fast paced, heavy bass music act with an infectious stage energy. If you want to get your dancing shoes on to musicians who very clearly know what they're doing and you're particular to a bit of the naughty bass then this is the act for you. They're a multi-genre unstoppable force on stage.They are like bottled adrenaline that can get an enitire festival bouncing. Oh, and last time they arrived with a harp.
A massive 13 piece band with big brass and even bigger bass! There's a 7 piece brass section which provides a bombastic enough sound on their own. They have a drummer playing an acoustic kit that also has digital triggers so he controls everything that thumps and cracks. A Blues trained pianist provides beautiful flavours, a few licks from him signalling what song they're about to play will get the fans screaming. There's 2….you want to say DJs but they hardly touch the decks as they're armed with all sorts of pads, MIDI and triggers creating the backing tracks live. 2 vocalists come in the shape of Hypeman Sage and Maria. Hypeman Sage is a London born and bred Grime/DnB MC who can only be described as "the MCs other MCs fear of". And Maria…where do we even start!? She's a 5ft nothing pocket rocket who can sing like your soul is crying and she can rap quickfire style better than most, after one show you'll realise why the crowd scream when she walks on stage. And lastly the whole band is fronted by band leader Dutty Moonshine who joins the 2 x vocalists on the mic to help with backing vocals. It's Mr Moonshine himself who controls who does, what, how and when. Including the crowd. He is the master of pulling the strings and leading the charge, when he says jump you don't waste time asking how high, you give it some beans!
With a take no prisoners attitude and infectious energy this is a band that'll have you dancing and screaming for more!
The band formed in 2015 and they've been destroying dancefloors since their inception with their unique take on bass music. In 2020 they secured themselves a Top 40 album, also an official number one dance album, with 'City of Sin'.
They are guaranteed to put on another epic performance for Nibley, so be prepared to dance and dance hard.


Performing on Saturday
Video links
Sponsors