The Correspondents
Nibley 2019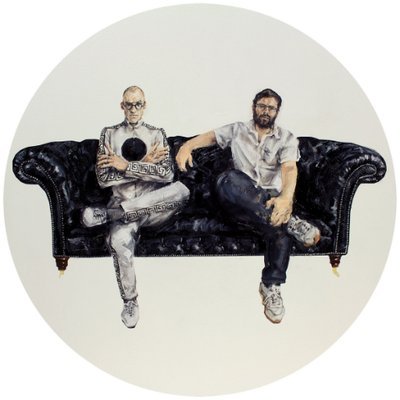 Perennial festival favourites The Correspondents will be performing in the post headliner slot on the Renishaw Stage.
The Correspondents are singer Mr Bruce and producer Chucks. Both growing up in South London, they formed in 2007 and within two years had taken their high octane genre-blending dance music from house parties to festival main stages.
Mr Bruce dances in a tempestuous whirlwind of monochromatic energy while singing, rapping and scatting about the trials and tribulations of love, lust and everything in between. Chucks takes the crowd on a journey from the retro sounds of the swing era to blues and 60's soul, and then out the other end into electronica, drum & bass and jungle.
The Correspondents are never afraid to stick to their pop sensibilities, but get fidgety dwelling anywhere too long. Chucks hurling tracks at the audience and flamboyantly costumed Mr Bruce whipping them into a frenzy with high speed scatting and incredulous dance moves. Armed with anything from a brass section to an infrared sensor light box and their trusty conveyor belt dance platform.
Their reputation as one of the UK's best live acts has earned them The Telegraph's Top Ten Highlights of Glastonbury two years in a row. Their performances have taken them to the main stages of festivals (including Bestival) and clubs across Europe.
Performing on Saturday
Video links
Sponsors