The Dreaming Spires
Nibley 2015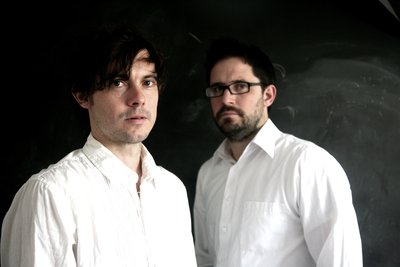 The Dreaming Spires are Robin and Joe Bennett who handle most instrumental duties, with Jamie Dawson on drums and perucssion.
Their musical pedigree includes stints in Goldrush and Danny & the Champs, recording with Mark Gardener of Ride, and collaborations with everyone from Gary Louris of The Jayhawks to Garth Hudson of The Band, Mercury Rev to Saint Etienne (the brothers recently headlined The Barbican as members of the present live incarnation of Saint Etienne).
From their earliest guise (a band called Whispering Bob who released a mini-album in the late 90s and received airplay from radio legends John Peel and, naturally, Bob Harris) the Bennett brothers have long straddled a line between the influence of roots music, classic 60s pop and their youthful love of indie rock from both sides of the Atlantic, always anchored by their distinctive harmonies in the tradition of The Everly Brothers and The Byrds. I guess there is more than a hint of Americana in all of their work and so we thought it would also be an apt fit for this year.
The word we would use to sum the band up - Quality! This is what other people have said:
"... the most thrilling country rock debut album since Big Star"
**** (4 Stars) - Q Magazine
"...it's clever, fresh-faced, melodic and it believes."
**** (4 Stars) Independent on Sunday
Performing on Saturday
Video links
Sponsors