Proud Mary
Nibley 2012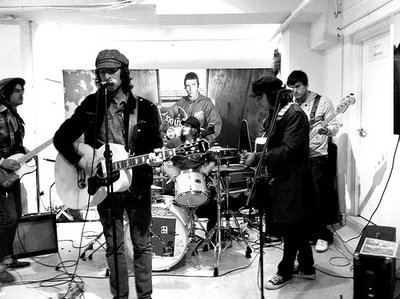 The first band ever that Noel Gallagher signed to his music label were Proud Mary - we trust his judgement! A genuine stadium rock band, these boys have toured with Oasis, Neil Young, The Stereophonics, Paul Weller, Ryan Adams and The Black Crowes, and countless others. They have played on some of the biggest stages to enormous crowds. Here are some of their plaudits:
"A Classic Rock and Roll band" - Caleb Followill (Kings of Leon)
"When Proud Mary let loose they really bite" - Q Magazine
"If you like swaggering scarf-waver tunes with vast choruses and singers who sound like they swallow red-hot pokers, you've found your Holy Grail" - The Guardian
"A lesson in song-writing" - Noel Gallagher

Gallagher has described their musical influences as a "cross between The Stones, Neil Young and The Band" but you can also hear a nod to Dylan, and The Faces in their material. They mix their incredibly cultured sound with a degree of showmanship on stage that you would expect from the rock legends - a swagger to delight any arena, no matter how big.

They are one of the classiest live rock acts you will be lucky enough to see. They are the real deal, and we cannot wait to let them rock you till you drop!
Performing on Saturday
Sponsors