Wildwood Kin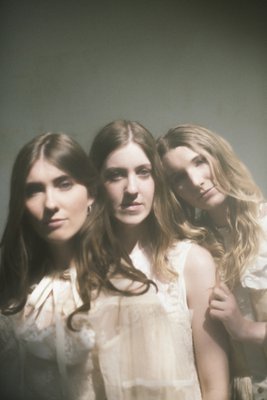 With their astounding harmonics, riotous performances and beautiful camaraderie, there is a spirit to Wildwood Kin's sound that is as wild and free as the West Country moors that they grew up on.
The band are Emillie Key, her younger sister Beth, and their cousin Meghann Loney. They cut their teeth with open mic spots at an 800-year-old pub, in the tiny Devon village of Stokeinteignhead, where Emillie shook a tambourine, Meg banged a cajon and they were all so nervous that they had to do the whole thing sitting down. From such beginnings they are filling far larger iconic venues and stages across the UK & Europe. Their live shows are full of moments of soul-soaring, ear-quenching alt-folk riot of sound.
This family group, who emerged from Devon with their hit debut album Turning Tides, then released their self-titled second album in October 2019 which features the smash hit "Beauty in Your Brokenness". In turn leading to UK and Europe wide touring.
Wildwood Kin harmonise effortlessly, showing shades of Simon & Garfunkel, Rumours-era Fleetwood Mac and the churchy cadences of the first Fleet Foxes album. Their beautifully gentle folk rock melodies, and lyrics address profound themes like love, loss and spirituality in an unforced fashion. We are looking forward to their euphoric uplifting set on the main stage.
Performing on Saturday
Video links