Mr Whompy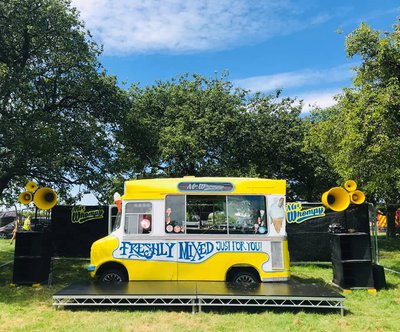 Back by popular demand to spearhead the fun, frolics and shenanigans in the Vinyl Frontier is Mr Whompy.
Mr Whompy is an original lovingly restored 1970's classic style ice cream van. It has been fully loaded with Void Air Motion audio & incredible lighting and lazers.
This Interstellar ice cream van will be banging out all forms of dance music over the weekend from its beautiful location in the Orchard. Expect an eclectic mix of House, Drum N Bass, Balaeric Beats, Trance, Techno, Funk, Soul, Electro Swing, Afro Beat, Floor Fillers, Ibiza Classics and more that will be playing throughout Friday and Saturday. All "Freshly Mixed for You" from local DJ collectives and national artists as our newest addition to the Nibley Festival Family.
There will also be DJ workshops for kids (and the overgrown kids who fancy giving it a go) on Saturday morning in this area of the Orchard.
Performing on Friday
Sponsors