Gypsy Unit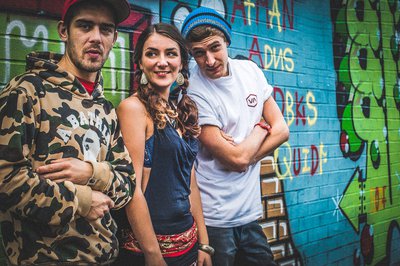 Gypsy Unit are a genre defying live hiphop collective from Bristol. Pioneers of the Gyp-Hop sound, armed with beats, bass and violins they are on a mission to bring bass to your area! Full of character and bouncy basslines, they are definitely not your run-of-the-mill hiphop act.
Jay, Kerry and Bobby create an iconic sound and quirky party vibes. A kind of mickey-take out of G Unit, they cross party vibes with gypsy riffs over dutty basslines. Gypsy Unit have been one of the freshest acts on the scene ever since they first started gigging. Throughout the last 3 years, these guys have had a packed out tour calendar, sold out club gigs as well as playing on big stages at festivals such as Glastonbury, Boomtown and Shambala!
Combining a rowdy, cheeky party vibe with a quirky string section and hooky choruses, their trademark sound will be bringing the party as the Friday Renishaw stage headline act.
Please note some of the external links from YouTube may have explicit language.
We have highlighted to all our Artists during their performances to note the nature and make up of our family audience and refrain from excessive, continuous or unnecessary profanities. Acts that we feel may use language that some may find offensive during their performance have been booked to play after the watershed. We believe that this will give Nibley Festival goers a broad and varied range of exciting musical styles to cater to all our audience and allow the Artists to express themselves creatively.
Performing on Friday
Video links
Sponsors