Eva Lazarus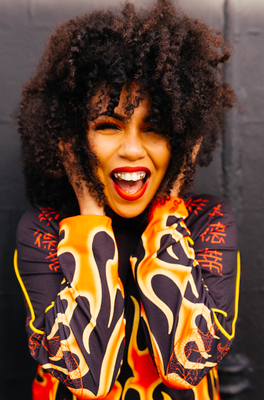 Big voice, big bass and big hair is what Singer/MC Eva Lazarus is all about!
Eva Lazarus tirelessly smashes through the festival season each year, including Glastonbury, main stage Outlook, multiple packed shows at BoomTown culminating with an electric Show alongside Gentleman's Dub Club in the Lions Den.
2017 saw the collaborative release with Mungos Hifi 'Amsterdam EP' which was play listed on BBC 6 Music and features in David Rodigan's scorchers of 2017 list. A string of releases also included singles with Nextmen, Gardna X Kreed, Gentleman's Dub Club, Xoa and a track that was included in Giles Peterson's list of 2017's best records Zed Bias ft Eva Lazarus 'Restless'.
Eva & her crew ('The Afronaughts' and DJ Chris Munky) are primed, packing a stage show jammed full Props and Confetti Canons and are ready to nice up the dance whether its a rave, a club, a festival, boat, pyramid or the moon!
"Bringing you a blend of genres through a legendary voice Eva's solo show is of shimmering headliner quality and we are deeply blessed to have her come and grace the stage with the edge she wields. " – Bask Productions
"Eva Lazarus was one of our favourite acts of the entire festival: sharp, sassy, sexy, slick and hugely entertaining." – Urban75.org
The Saturday Renishaw stage headline slot will be on fyah!
Performing on Saturday
Video links
Sponsors