Cut Capers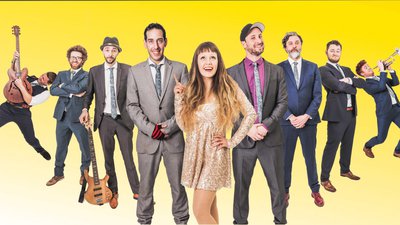 Another welcome return of some Nibley favourites, the amazing, entertaining and downright fabulous Cut Capers.
The 9-piece Bristol band whose energetic live performance and infectious sound have won them a cult following on the British festival scene will be performing on the main stage.
Mixing a swinging vintage-style brass section with funk, soul and hip-hop, theyhave over the years,established themselves as a formidable live outfit, playing regular headline shows and mainstage performances at some of the UK's biggest festivals including Glastonbury and Boomtown Fair.
In 2015 they began spreading their unique blend of tight grooves with a four-piece horn section and soulful female vocals to Europe and further a field. They have now performed in over 50 cities across 8 countries including Italy, Turkey and Bahrain.
The band have released several singles on the lead up to their 2016 debut album Say What. Latest release Get Movin' is the first single off the brilliant second album Metropolis,which was released to huge acclaim in May 2019.
See you at the front!
Performing on Friday
Video links
Sponsors