Captain Flatcap - DJ Set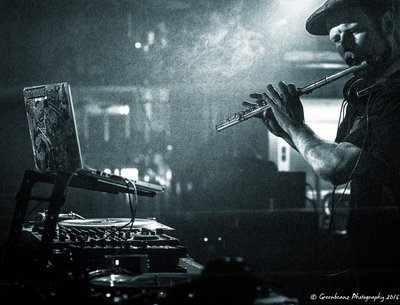 Captain Flatcap (DJ Set) is multi-genre, instrumental electronic dance music. The Captain, Chris Rotherham sets are centered around vintage remix and includes influences of swing, ska, funk, and various genres of dance music. He also incorporates live flute!
Chris was classically trained from an early age. He grew up being part of live ska, reggae, punk, swing, jazz, folk and classical groups, which explains the mixture of vintage genres included in his music. Whilst his influences have no limitatons some of his favourite artists include Caravan Palace, The Cat Empire, System Of A Down, Bonobo, Infected Mushroom, Will And The People, Koan Sound, James Blake and Dizraeli.
Captain Flatcap has supported The Freestylers, A.Skillz, The Correspondents, Dutty Moonshine, Chris Tofu, The Swingrowers, Oddbox, The Electric Swing Circus,Too Many T's and Father Funk. The Captain also has his own weekly radio show on KaneFM 3pm - 5 every Tuesday.
He is set to be a memorabe addtion to this years Vinyl Frontier line up.
Performing on Saturday
Sponsors