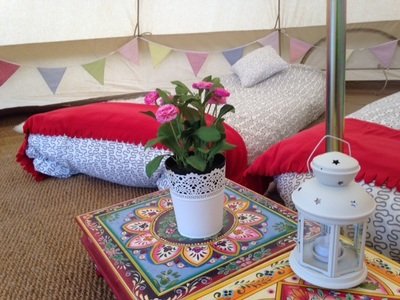 Glamping
So you want to enjoy every single minute of the festival, and that means sleeping over - but you haven't got a van and perhaps you're a bit put off by all that stress and bother grappling with pegs and soggy ground sheets.... who wants to rough it?
Well plenty do, but if you prefer your creature comforts thank you very much, then why not book yourselves a luxury bell-tent instead?
We are delighted to welcome back Tinkerbell Tent Hire for 2018. Kate and Paul will be there to greet you on arrival and show you to your beautifully furnished bell tent with comfy beds, all set up ready and waiting for you. They'll be on hand all weekend to look after you and make you as comfortable as possible. What better place to collapse at the end of a lively evening....?
Book your tent from our Ticket page, and if you have any specific queries please contact Tinkerbell directly (details below). Please read the following information first. The Terms and Conditions are important too as they contain stuff you need to know about before you come.
Arrival
The Campsite will be open from 2pm. Please don't arrive any earlier as the site will not be ready and we will have to turn you away. You can pick up your festival wristbands from the main gates, then wander over to the glampsite reception for your special Tinkerbell one.
Facilities
There will be portable toilets on the campsite. Glampers will have their own facilities, separate from the rest of the campsite. Please report any problems to Reception or any Steward. There are drinking water points on the campsite, but we recommend that you bring supplies of bottled drinking water with you for convenience.
Please use the bins provided. The site is a working farm and litter and waste pose a hazard to livestock and wildlife.
Food & Entertainment
Friday evening: The campsite marquee will have the usual family-friendly bar, BBQ (proceeds to Friends Of North Nibley School), and there'll be plenty more food options and live music to keep you entertained!
Saturday and Sunday mornings: Breakfast will be available (again proceeds to Nibley School). The Village Shop will be on site selling newspapers.
Also on Saturday morning there will be some fun-filled activities for the younger children, all entirely free including an assortment of circus equipment for them to try their hand at hula-hooping; plate spinning; juggling balls; diablo's etc.
Nearby
North Nibley Village Shop is only a short walk away and they plan to be open until 9pm on Friday, then 9am – 1pm on Saturday and 9.30 – 12.30 on Sunday. For more details visit http://northnibleyvillageshop.co.uk
If you fancy a local pint we can recommend these super pubs on your doorstep:
The Black Horse Inn is in the village itself and an easy stagger back to your tent! A lovely, welcoming pub at the heart of the village, and pretty pub garden. Open late on Friday and Saturday.
The New Inn, Waterley Bottom is an easy 2 mile walk along country lanes into the gloriously named Waterley Bottom valley. Stunning views, a lovely garden with swings, and home-cooked food in a peaceful rural setting. Lots of delicious ales and ciders on tap.
For all pubs we recommend booking a table if you're eating as they will be very busy over the festival weekend and food serving times vary.
Departure
All campers are required to vacate the site by 12 noon on Sunday 8th July. Please ensure you take away all your rubbish and personal belongings.
General Enquiries:
Email: hello@tinkerbelltenthire.co.uk
Phone: 07494 569808
@tinkerbelltents
http://www.tinkerbelltenthire.co.uk/
Sponsors