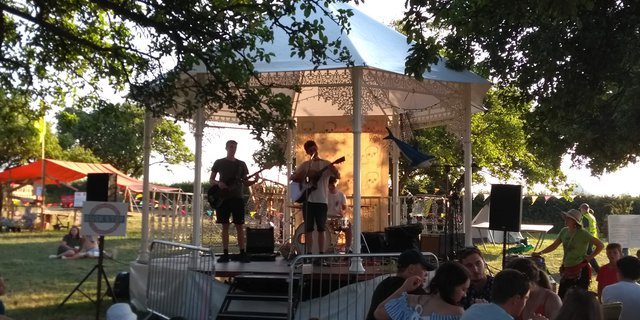 Busk Stop
Would you like to play Nibley Festival ?
The Nibley Busk Stop is looking for performers for our beautiful bandstand - A small, informal stage tucked between the trees in the orchard.
Please note that we do not provide free tickets for performers on the Busk Stop. It's an opportunity for people who are attending the festival anyway to get involved and showcase their talent. We can offer the chance to buy tickets in advance of the public sale and we'll provide drinks vouchers for all performers on the day.
Anyone can apply, we particularly welcome applications from young performers and would love to have some spoken word performances as well as a broad range of music.
A small PA is provided and there will be tech support available.
There will be sessions running throughout the weekend, times to be confirmed.
Please note: all under 18s must be accompanied by an adult over 21. Drink vouchers for under 18s will be for non alcoholic drinks only.
To apply or find out more please email buskstop@nibleyfestival.co.uk with a brief description of your act.
We'd also love to hear from anyone interested in helping with the Busk Stop whether it's helping put together the programme or compering a session, please get in touch if you think you can help!
Sponsors